Meet the Expert | Annemarieke Willemsen
Meet Dr. Annemarieke Willemsen, who works at the Dutch National Museum of Antiquities (Rijksmuseum van Oudheden), since 1999 as curator of the Medieval Collections, with responsibility for all post-Roman finds from Dutch soil. She is currently working on the '5000 years of beads' project and the preparations for an exhibition on 'The Year 1000', which will be shown in 2023.
When Annemarieke Willemsen started studying, it was clear that she wanted to do something 'historical'. She started the broad study archaeology and art history at the Radboud University Nijmegen, where she became familiar with ancient to modern art. During her studies she worked on Roman archaeology including excavations in Pompeii and Ostia. During her PhD project she specialised in the Middle Ages and did research into medieval children's toys. During her work at the Museum of Antiquities she kept working on medieval themes.
Through her work in the Museum Dr. Willemsen wants to show a wide audience how beautiful and fun different periods in history are, and that medieval people were much like people in modern times. People in the past were not solely concerned with survival and were not dumber than us. Through researching and exhibiting everyday objects from different time periods, visitors get a better idea of how people used to live and think. The current exhibition '5000 years of beads', which was conceived and coordinated by her, is an example of this. People wear beads on their bodies that partly show who they are. Recent research has made it easier to determine where beads come from and how old beads are; a necklace can sometimes function as a kind of biography. In this film about early medieval Rijnsburg, Dr. Willemsen discusses a number of beads from the collection.
The project 'The Year 1000', which she also conceived and coordinates, is about the territory of the present-day Netherlands in context of the 10th and 11th centuries. With this project she wants to show that the Netherlands already had a place in the global network instead of being isolated from the world by, for example, stories of merchants or pilgrims. Part of the research of the project takes place in Rome, where Dr. Willemsen is a fellow at the Royal Netherlands Institute in Rome.
Dr. Willemsen expects that she will keep working at the Museum of Antiquities, possibly she will focus on the Latter Middle Ages again in the future, kind of her favourite, but for now she is still busy with her exhibitions, collections and academic research.
Interview by LeidenGlobal intern Jade
March 2022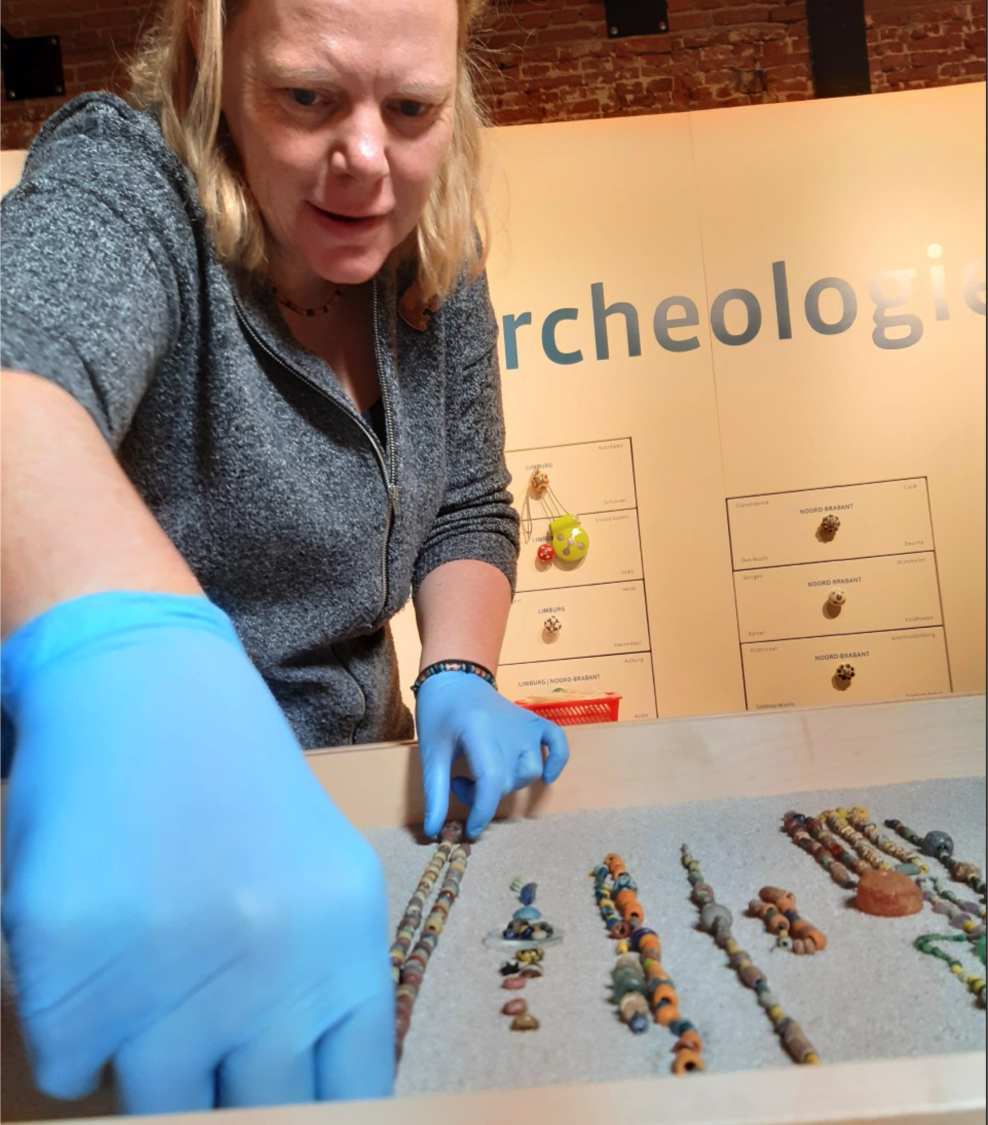 Photo by Mette Langbroek